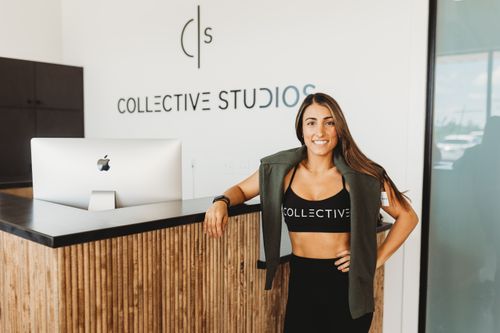 Ashley Iwanicki
Founder/Owner, The Collective Studios
A New England native, Ashley drew on her experiences living and working in some of the nation's most developed and competitive markets including Boston, Los Angeles, New York, San Francisco/Silicon Valley and San Diego to create The Collective Studios. In 2019, Ashley saw a market opportunity to bring a mature, premium fitness and wellness experience to the affluent New Hampshire suburbs.
A graduate of Boston University, Ashley has held titles such as Marketing Director and Global Marketing Manager. Prior to founding the studio, Ashley owned and operated a successful marketing consulting business working exclusively with brands in the health and wellness space. Her career has spanned the worlds of marketing, public relations, global experiential events and more. Her career accomplishments include driving the global expansion of a $60M luxury goods business, acquiring 1M consumers worldwide across 12 countries and generating more than 450M media impressions with a single marketing campaign.

Ashley is a 200-hour registered yoga instructor and integrative nutritionist. She is also a certified Reiki Master, was named one of WZID's 20 Outstanding Women, and holds certifications in Yin Yoga, Yoga Sculpt, and Lagree Fitness Megaformer. Ashley is also a Lululemon ambassador.