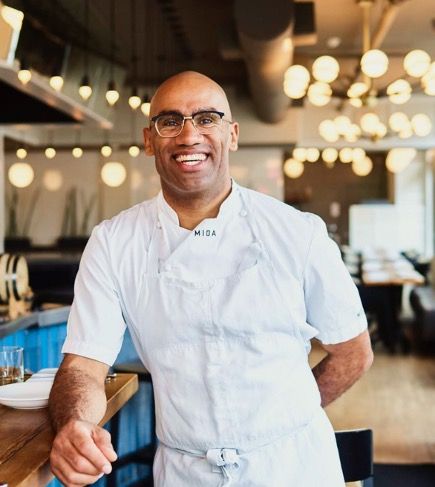 Douglass Williams
Chef/Owner, MIDA and APIZZA Restaurants
It is an extraordinarily challenging time to be a chef in the kitchen, and somehow Chef Douglass Williams continues to inspire and bring people to the table. Honored by Food & Wine Magazine as a Best New Chef 2020, and by the James Beard Foundation as a semi-finalist, Best Chef Northeast 2020, Williams kept his award-winning restaurant MIDA South End running and feeding the community, while opening two more restaurants: MIDA Newton and APIZZA Boston during the pandemic. Boston Magazine awarded Williams Best Chef, General Excellence, 2021, and MIDA South End as one of Boston's Best Restaurants, 2021.
In perpetual motion, you will find Williams on the line leading his teams at MIDA South End, the brand new MIDA Newton, or at the lively new APIZZA in Boston's Hub Hall. Known for his deft technique with hand-made pasta, a spirit of generous hospitality, and a smile that lights up the room, Williams is committed to making a difference in the kitchen and the community.
Diagnosed with Crohn's disease as a teenager, Williams' path took a left turn, as he learned how to heal himself through food. His journey brought him from his hometown of Atlantic City, NJ to The Academy of Culinary Arts at Atlantic Cape Community College, and then to traveling the world, learning from the best. From Thailand to Paris, New York City to Boston, he worked and staged at some of the best restaurants, including Radius and Coppa/Boston, Corton/NYC and Akarme/Paris.
While cooking at Coppa, Williams would cycle down Mass Ave where the South End meets Roxbury, and all he saw was an opportunity – for change and the chance to create something meaningful. At the corner of Tremont Street and Mass. Ave., he created his first restaurant, MIDA South End, a neighborhood restaurant inspired by the simplicity of classic Italian culinary traditions. MIDA is one of the city's favorite restaurants, earning top honors for "Best Restaurants in Boston" and "Best Pasta" and is a must-visit when in Boston.
In June 2021, Williams opened his second restaurant, MIDA Newton, just outside of Boston, in a beautiful new space with the same soft glow of MIDA South End. The space is double the size of the original MIDA, with just more to love. In the new restaurant, Douglass prepares not only his famous hand-made pastas but also a whole new selection of New Haven inspired pizza.
Williams shares, "To be a Black chef/owner here in Boston is an honor and a responsibility I take very seriously. I am fortunate to have successful restaurants, an incredible team, and a supportive community. I have things to say and share; I try to do it every night through delicious and beautiful dishes at MIDA. And by giving my time and energy to the neighborhood and those around me. I put my passion for story-telling and teaching to use by building bridges in the community through food and conversation. I truly believe the world can come together over a delicious bowl of pasta."