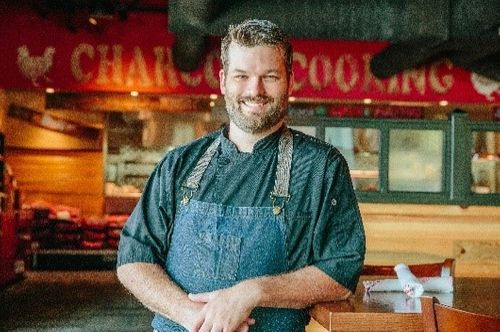 Eric LeBlanc
Executive Chef, Burton's Grill and Bar
Eric LeBlanc was born in Isle La Motte, Vermont, where at age 13 he began working at a country club. Fueled by his experience in the hospitality industry, Eric attended and graduated from the New England Culinary Institute in 2005.
With his degree under his belt, Eric sought out experience in the kitchens of Chez Henri, Central Kitchen and Grotto as a line cook. He moved on to Marliave where he was instrumental in the reopening of the restaurant. LeBlanc wanted to travel and subsequently made the move across the country to La Jolla, CA where he worked at Whisk n' Ladle. While in California, Eric developed a passion for sourcing local ingredients and, in an effort to feed that passion, took a Chef position at Milarepa Hotel and Restaurant in Costa Rica. During his time at Milarepa, Eric grew produce on the property and hand selected all ingredients, changing the menu daily.
LeBlanc made the move back to Boston where he opened Kitchen and served in the role as the Chef de Cuisine for a year. When he was offered the Chef de Cuisine position at Stir, Eric knew it was the best chef position in Boston after replacing former Top Chef contestants. He immediately said yes and joined the Stir team in May of 2013 through September of 2014. An opportunity came up to be on ABC's The Taste and LeBlanc took the challenge to compete on the national level for some of the best chefs in the world. Ultimately, Chef LeBlanc finished as a Finalist for Team Anthony Bourdain.
After taping completed, LeBlanc was tapped to join the Broadway Hospitality Group where he rose to position of Back of House Operations Leader in his five years, opening several new restaurants and brands for the group in the process. In January of 2021, Eric LeBlanc joined the Burtons Bar & Grill and Red Heat Restaurant Group as Culinary Director. Chef Eric has been able to participate as a champions pavilion chef for the US Open for multiple years. On Food Network, Leblanc has competed in the popular Cutthroat Kitchen and Rewrapped shows, ultimately winning both. Chef Eric also placed second in the 2021 Great American Seafood Competition in New Orleans, LA as part of the team with Chef Denise Herrera and was named the 2021 Grand Winner of the Wicked Bites and Chefs of the North Shore Pro Chef Competition. Chef LeBlanc is also a member of the America Culinary Federation. Eric LeBlanc resides in the South Shore of Massachusetts with his wife Emily and daughters Harper and Quinlan.